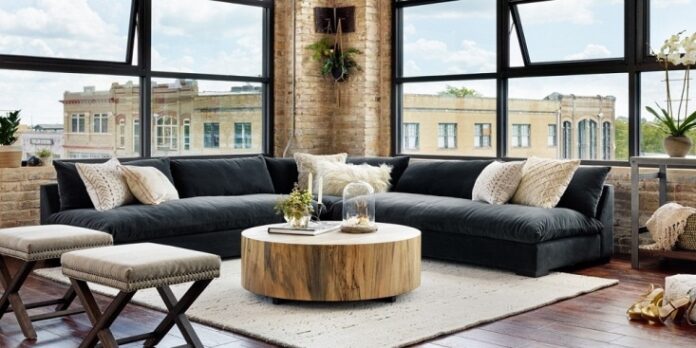 A u-shaped couch is a type of sectional couch that consists of multiple joint sitting sections. This couch is usually available in the form of separated three sections set together in a u-shape. This couch is an excellent solution for large families where people can sit face to face and spend time.
This couch is ideal for both large and small spaces where you don't want to place the set of armchairs. You can elevate the room interior by placing the matching or complementary ottoman in the center.
If you are thinking about purchasing a u shaped couch for your lounge, consider the features mentioned below.
1. Measure the Space
The u-shaped couch is available in sizes, from small to large spaces. Measuring your open space will help you purchase the right couch set.
2. Material
The u-shaped couch set is designed with different materials, from leather to other fabrics. All the materials have their elegance and comfort level. The choice of material depends on many factors like the size of the family, the age of family members, the room interior, and where you want to place the couch.
The common materials include;
· Leather
Leather is one of the most commonly used materials that provide elegance and a classical feel. The leather is available in different colors and qualities.
Leather is most recommended if you have kids in the family as this material is stain, water-resistant, and easy to clean.
· Velvet
Velvet gives an exceptionally luxurious and cozy feel but demands maintenance and is pretty expensive. Velvet couches are best for guest rooms.
· Cotton
Cotton is another popular upholstery material used in couch sets. Cotton is known for its comfort and striking designs.
3. Pocket Spring or Foam
The interior material of the couch is of two types; pocket spring or foam. Foam filling is more comfortable than the spring one. However, the spring couches maintain their shape for longer than the foam ones.
Foam filling is recommended for less used couch sets, like in guest rooms or bedrooms, but the spring couch filling will last longer for living rooms.
4. Style
Regardless of the type and shape of couch sets, there are some common styles available. These styles include tuxedo, chesterfield, cabriole, Lawson, camel back, bridge water, Knole, and others.
These styles vary in their structure, height of arms, and setbacks. So, before stepping into the market, check all these couch styles and choose the one you love the most.
5. Determine Your Budget
Before entering the market, make sure to determine your budget. The budget fixation will make your search list limited, and you'll save a lot of your time and energy.
A couch is a pretty expensive investment, so limiting your budget will save you from after-purchase hassle.
6. Pick A Reliable Site/Brand
There are many brands and websites in the market that are showcasing u-shaped couch collections. So, make sure you choose the most reliable site to purchase your couch. A dedicated site is the one that offers you;
Great flexibility of designs and styles
Many different brands' couchs on one page
Simple and easy to use
Guarantee products quality
Provide innovative designs
Provide options of a wide price range
Customized solution
Alibaba.com is one of those few sites that offer you all of these convenient services so that you will choose the most suitable option for your home.
Conclusion
A u-shaped couch is a worthy investment if you want to create a friendly and cozy room in your home. This couch will undoubtedly bring all of you together with full of comfort and style. Check the u-shaped couch collection on alibaba.com and order one of your requirements.