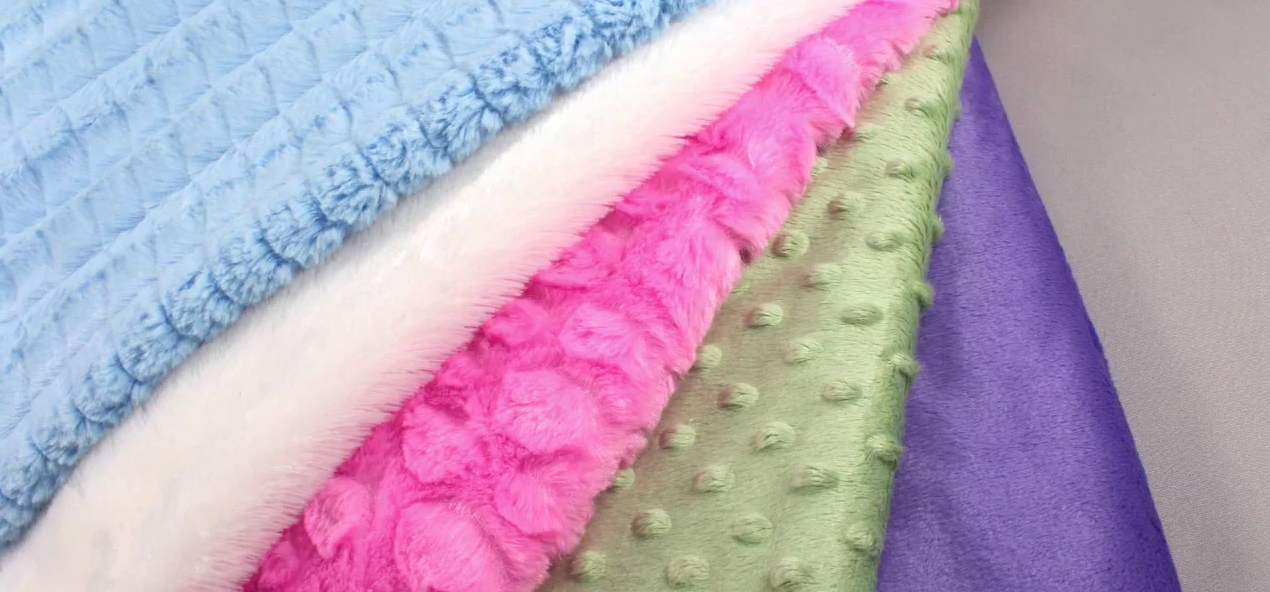 Minky fabric is a silky fabric that is often used to make stuffed animals, blankets, and other items. It is constructed of polyester, a synthetic substance, and its velvety texture makes it very nice to touch.
It is simple to maintain and can be machine-washed and dried without difficulty. This fabric also has a feel very similar to velvet, yet it is not as dense or rigid as velvet. Minky has a smooth surface that imparts a plush, velvety sensation upon contact.
Minky Fabric Colors & Textures
Depending on your preferences, you may locate minky fabric in a variety of hues and textures:
Silky Minky
This type has a silky shine and a smooth texture, making it ideal for blankets and throws for the house and nursery. Silky minky is often less costly than other sorts since it lacks the texture and depth of other minky fabrics.
White Minky Fabric
White minky fabric is excellent for blankets, cushions, and other home design items. The white hue of this fabric makes it classic and adaptable.
Smooth Minky
This sort of minky has no texture and is very soft. It resembles velvet or satin in texture. Smooth Minky is available in almost every color or pattern, although it is most typically used to make baby blankets and stuffed animals.
Ribbed Minky
This variety of minky has a somewhat coarser texture than smooth minky due to the presence of tiny ridges (which gives it its name). It is often comprised of softer yarns than ribbed cotton, making it more pleasant for newborns' skin (especially if they have sensitive skin). Ribbed Minky is an excellent material for baby blankets since it is warm without being too heavy for summer.
Best Uses of Minky Fabric
Here are some suggestions for using minky fabric:
Baby Blankets
A baby blanket is a timeless present that may be given at any time of year. They may be produced from a variety of materials, but minky fabric creates a particularly plush and fuzzy blanket that will keep your child warm and comfy as they sleep or play on the floor.
Cushion Covers
The fabric Minky may be used to create pillow covers, pillow shams, and throw pillows. Pillowcases are wonderful complements to any bedding ensemble since they can be cleaned separately from the sheets and comforter, ensuring that they are always clean and fresh.
Clothing Articles
You may use minky fabric to produce dresses, shirts, jeans, and skirts, among other garments! If you want to add more texture and flair to other items, such as jackets or coats, you can even use it as an accent piece!
Conclusion
Minky fabric is composed entirely of polyester. It has a silky, pleasant curl to touch and feel. The fabric also has a napped side, so if you're seeking for a downy texture, it may provide that, but it does not include any artificial filling. When utilizing minky fabric as a trim or accent, flannel may be used to give it additional weight due to its lightness.
Minky fabric is an excellent choice for bedding, apparel, blankets, and more. It is also true that colors might appear differently depending on the lighting, therefore if feasible, it is always a good idea to examine a sample before purchasing the cloth.